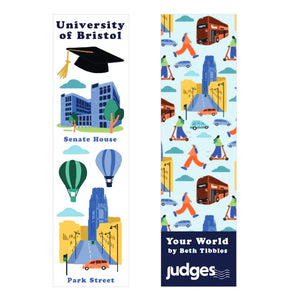 Bristol - Your World Collection - Card Bookmark
Regular price
$2.00
Sale price
$3.00
We are introducing the Bristol - Your World Collection - Bookmark, the perfect way to keep your place in any book. This made of cardboard, well-crafted bookmark is designed with Bristol in mind and makes a great gift for any reader. Keep your place in style with this one-of-a-kind bookmark!
This colourful bookmark features popular Bristol and UoB buildings and landmarks, including Wills Memorial Building and Park Street, Senate House, as well as everyone's favourite Balloons and Voi scooters, and even your Uni Bus!
This original collection has been design by Bristol SU and a very talented illustrator Beth Tibbles.
---